Your First Visit to Our Larchmont Practice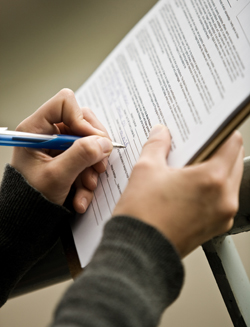 Make Yourself at Home
You'll find plenty of convenient parking and a well-lit parking lot (spaces 1, 2, 3). New patients will feel right at home upon entering our office for the first time. A bright airy reception room, awaits you, where you will be greeted by your name and a smile. You will want to complete your paperwork prior to your first visit.
Our Purpose
The purpose of this first visit with me is to discuss your current problem, as well as your health goals. I will learn more about you, your condition and your expectations to determine whether chiropractic care will meet your goals.
My exam will be thorough. I utilize advanced chiropractic technology that scans your spine and delivers a computerized image of the stress and tension to your nervous system. It is non-invasive, and does not hurt. Because your care is based on the condition of your nervous system, not how you feel, this technology is the focal point of my practice.
I will then perform specialized tests, do a kinesiology exam (to determine muscle function) and observe your posture. Everything will be explained in advance; and our patients like that.
Your specific condition may require us to take x-rays. With x-rays on the premises, it will assist us in developing the most effective treatment plan for you.
Same Day Treatment
If necessary, and you are in distress, you will be provided with physical and/or soft tissue therapies that day to start the healing process.
Schedule Your Next Appointment
We will arrange for a mutually convenient appointment for your follow-up visit, to review your test results. Generally speaking chiropractic patients are seen within 1-2 days.
Your first days visit will take approximately 60 minutes.
To view what the second visit looks like at The Family Chiropractic Office, please click here.